Florida is one of the most popular states for people to want to live. The year-round warm weather, abundance of jobs, and large list of attractions makes it easy to see why nurses are flocking to Florida. It's not just for the snowbirds! There are tons of things to do in Florida.
Top Locations to Live Florida
Sarasota
The Sarasota coastline is renowned for white sand beaches, crystal clear blue waters, and the pristine environment of Lido and Siesta Key. The beaches are inviting, the water is warm, and there is plenty of room to spread out on the soft sand. Sarasota has a vivid arts scene, fabulous restaurants, and adorable shops and boutiques. It's considered to the cultural center of West Florida and travel nurses love working in such a beautiful environment! Visit the majestic Myakka River State Park for a wildlife experience and wander through groves of palm trees and live oaks, originally explored Native Americans.  
Tallahassee
Located in the middle of the panhandle between Jacksonville and Panama City, Tallahassee is a college town that makes for a great place to live! Florida State University (FSU) has a campus here, and the town is teeming with vibrant energy. St. Marks National Wildlife Refuge is less than 30 minutes away  and is packed with wild sea creatures, alligators, and bald eagles. St Marks is a gorgeous area on a piece of marshy coastline, punctuated by a quintessential east coast light house. Tallahassee proper is the capital of Florida and is full of museums, gorgeous outdoor parks (to be enjoyed year round!), and there are often fun events held on the FSU campus. 
Gainesville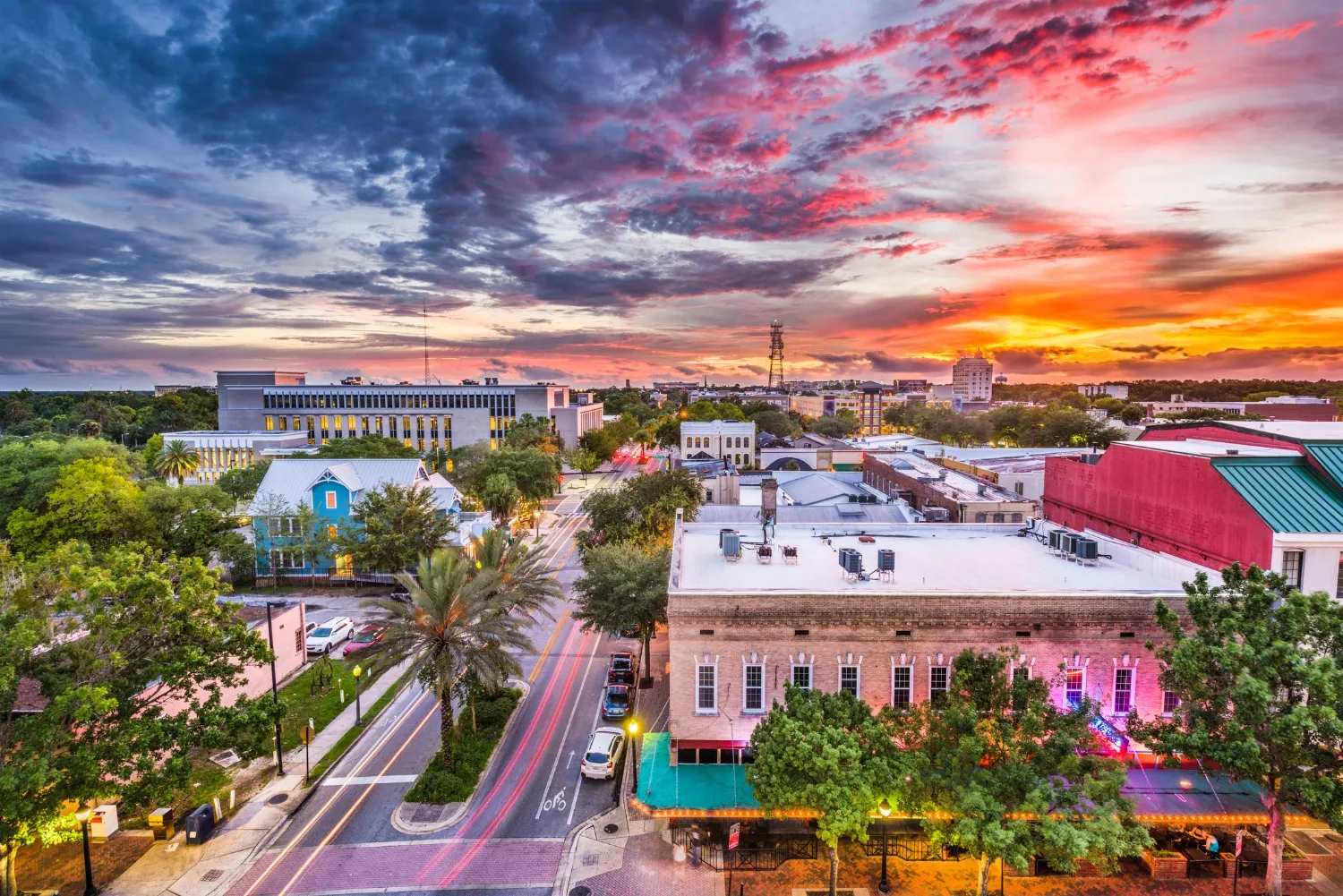 A small college town with a trendy feel in central Florida. Gainesville is full of freshwater swimming opportunities, hip cafes, and a vivacious nightlife scene. A slower pace of life and abundance of outdoor space makes Gainesville one of the top travel nursing destinations in Florida. Travel nurses the hip atmosphere with easy access to the lakes for boating and swimming, year round!
Miami
There is a reason this is Florida's most popular vacation spot. Sunshine for days on end, absolutely gorgeous beaches, top notch shopping, culture, art, music, renowned restaurants, and a bustling nightlife are a few of the reasons this city is visited by millions of people each year. The South Beach neighborhood is famous for its fabulous fiestas and VIP party scene. Little Havana is a colorful neighborhood full of art and the scent of wafting cigar smoke. Travel nurses love the fun atmosphere and outdoor events in Miami. Also check out nearby, Ft Lauderdale, another top travel location!
Tampa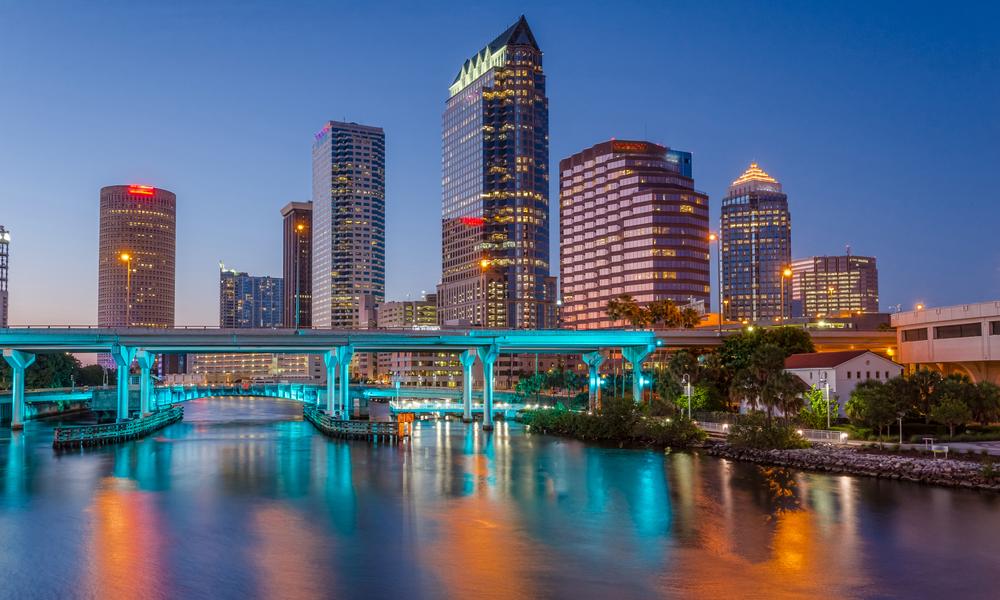 People tend to forget about this western Florida city across the bay from St. Petersburg and just east of Clearwater. St. Petersburg is a beach town with beautiful beaches and a cool vibe (it also hold the record for most consecutive days of sunshine at 768). Clearwater Beach is one of the most alluring beaches in Florida. White sand beaches and vibrant water draw people to this area. The city of Tampa proper is packed with fusion food, outdoor parks, and is close to the Busch Gardens/Adventure Island experiences. (Just a bit further south is Sarasota- another popular travel nursing location!)
Naples
Travel nurses love this southwest Florida city for its outdoor adventure options, massive amounts of dining options, waterside shopping sprees, and sophisticated ambiance. The large piers stretch into the green water meeting up with swanky boardwalks along the sand. 
Popular Florida Attractions
Check Out these Stunning Sights Located in The Sunshine State
 Dry Tortugas National Park, the Florida Keys and Key West, Daytona International Speedway, St. Augustine, Biscayne National Park, Kennedy Center Space Center, and Caladesi Island State Park, the Everglades
Best Time of Year to be in Florida
Florida healthcare jobs, especially those in travel nursing,  are relatively easy to come by for most specialties year round. Seasonal positions are common October- May for the snowbirds that flock to Florida. Many of these folks are elderly and will have some sort of healthcare need while residing in the state for the winter and the censuses of the hospitals increases, therefore they need more nurses. 
The busy season is the perfect time of year for travel nurses because the temperatures aren't as hot and humid as the summertime. Although, jobs tend to be a bit more competitive and finding housing may be more challenging during peak season. The increased demand can result in increased rental prices. 
Avoid late June-September if you are not a fan of extreme heat and humidity. Hurricane season starts June 1 and does not end until the beginning of December.
Average Pay and Cost of Living
Florida isn't known to be a top paying state, but you can find a top paying job in healthcare with Vivian! The cost of living isn't quite as high as other in demand  states, so nurses and healthcare workers have a great chance to save a lot of cash. If you can find a place just outside of major metro areas, and you're not looking for a palace by the sea, you can enjoy the Florida lifestyle at a reasonable cost.
The peak season for travel nurses in Florida is October through May. 
Aside from the high season, finding your own housing isn't as much of a struggle as in other states. There are a lot of short term renters in Florida and owners will cater to that. Many of the apartments are furnished and cater to temporary renters. 
Special Considerations for Healthcare Professionals in Florida
A lot of states have a network, or networks, of hospitals that are staffed by one managed service provider (an MSP). There are a LOT of Hospital Corporation of America (commonly known as HCA) hospitals in Florida, and they have a well known MSP named HealthTrust Workforce Solutions. The MSP often works with other agencies, but in the end, you are still working for a service provider. You may be expected to float to different facilities within a certain mileage radius if you are in a 'market float' position. 
Being a part of a large networks of hospitals provides a lot of opportunities and a variety of experiences. Working for such a huge agency can be beneficial as a new traveler if you are looking to stay with one network of hospitals across the country. If you have a lot of 'non-negotiables' in your contract make sure to ask direct and specific questions during your interview. 
Florida is a fantastic state to start your healthcare career nursing career if you are looking for year round warm weather and beautiful beaches.